Packed!
So I thought I was really clever and had managed to pack everything into one bag, but have now remembered I still haven't bought any sunscreen and haven't packed my bag of toiletries. And me getting ever so more girly in my old age (I wore lipgloss to work today - unheard of 6 months ago!) it is one damn big bag of toiletries.
So I'm off to buy the sunscreen and check out some bags too. For the next week I shall be here, using my 3 spanish phrases:
'Dos vinos tintos por favor'
'No puedo comer pimientos tengo alergia'
and 'No lo tengo'
Salud!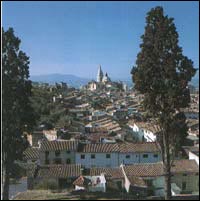 Posted by littlemissgreedy at 7:51 PM BST